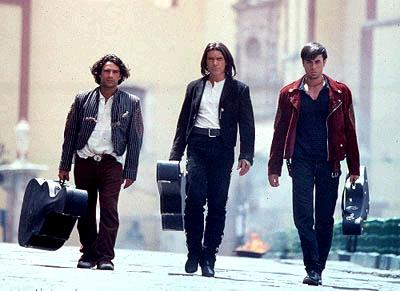 Narco News
A former Mexican cop who helped to carry out multiple murders in Mexico in 2003 and 2004 while working for a cell of a major Juarez drug trafficking organization is about to be released from a U.S. jail, possibly to take up residency in a neighborhood near you.
Law enforcement sources familiar with the discussions underway between the government and the killer — an individual named Guillermo Eduardo Ramirez Peyro — claim it's a done deal.
Ramirez Peyro's attorney, Jodi Goodwin of Harlingen, Texas, confirms she is in discussions with government officials over Ramirez Peyro's release, but adds that she has not received any official confirmation as of yet that he is to be set free.
The case of Ramirez Peyro is well-known to regular readers of Narco News. Besides his past history as a drug smuggler and key lieutenant for ruthless narco-trafficker namedHeriberto Santillan Tabares
, Ramirez Peyro also worked as a paid informant for U.S. Immigration and Customs Enforcement (ICE), which is part of the Department of Homeland Security (DHS).
ICE agents and U.S. prosecutors, as well as high-level officials within ICE and the Department of Justice, were made aware of Ramirez Peyro's participation in murders being carried out by Santillan and his assassins (who were, for the most part, Mexican state police officers). Many of the victims of those torture and killing sessions were buried in the backyard of the infamous House of Death
in Juarez — including a U.S. resident murdered at the house and allegedly a U.S. citizen who was murdered elsewhere in Juarez.
Even after Ramirez Peyro informed his ICE handlers of the murders, and his role in them (often in advance of the murders), officials at ICE and the Department of Justice chose to continue operating the informant, according to Ramirez Peyro and public records. The complicity of U.S. law enforcers in their informant's narco-trafficking activities resulted in a six-month-long killing spree that concluded with Mexican and U.S. officials digging up a dozen bodies from shallow graves in the backyard of the House of Death in Juarez, located just across the border from El Paso, Texas.

The killing only came to an end in early 2004 after thugs working for Santillan (again, Ramirez Peyro's boss) attempted to assassinate a DEA agent and his family in Juarez.